Mountaing of Prometheus - Mt. Kazbeg (5047 m.)


Tbilisi-Kazbegi (5047 m.)
2 Day Tour


Mount Kazbek is not just another peak over 5000 metres with superb climbs and walks – its a mythological mountain, called Mount Caucasus in ancient Greek legend – here Zeus punished the God Prometheus for giving fire to mankind. He was chained to its cliffs and a raven sent to peck at his liver. This story has a curious parallel with the Georgian legend of Amirani – local to the Kazbegi region. Another god-like character who, in the Georgians case, challenged God directly – and when he failed his ordeal was also chained to the flank of this dramatic mountain, called by Georgians Mkinvartsveri. Since then locals claimed it was climbed by Joseph from Khevi in the 17th century – but officially the first ascent was made by the Englishman Douglas Freshfield, accompanied by local guides in 1868 – who later became Director of the Royal Geographical Society.


Day 1 - Arrival Tbilisi-Mtskheta
overnight Tbilisi Hotel. Day 2 - On the way visit Ananuri complex to Kazbegi.
Continue the tour to the Cross Pass, from which you can enjoy spectacular views of the mountains and the beautiful Aragvi River gorge, and then make your way to the village of Stepantsminda, located at the foot of Kazbegi mountain. On the slopes of the mountain, discover the ancient 12th-century Gergeti Trinity church and the famous 5th-century cave of Bethlehem.
Dinner in Sytepantsminda (Georgian cousin).
Back to Tbilisi and Departure.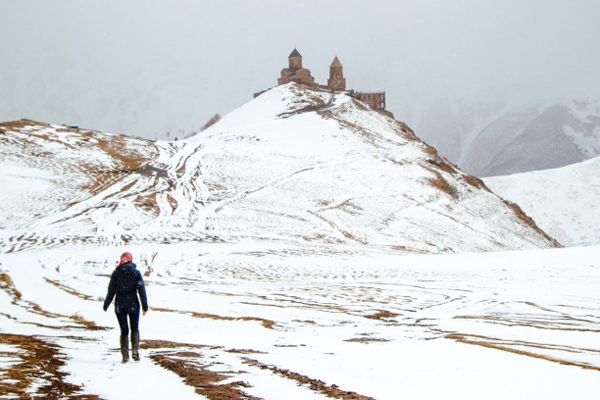 Tour Programm: Mount Kazbek (Mkinvartsveri) - 5047 m
Tbilisi - Capital of Georgia
Mtskheta - an ancient capital of Georgia/UNESCO World Heritage Site/;
Ananury - architectural complex 16-17th cc with frescos;
Georgian Military Highway;
Gergeti Trinity church 14th centuries;
Jvari Pass 2379 m.
Kazbegi Beer!
<

Price:
2 days Packege price: 370$
Price inclusive:
3 star hotel
travel insuarance
guide and transportation (comfortable minivans and jips)
Not inclusive: flyes and meal.