COUNTRY OVERVIEW
The Republic of Georgia is located to the east of the Black Sea and to the south of Great Caucasus Mountain Range. In the 41-43 latitude and 40-46 longitude. This region is known as the "South Caucasus" or " Transcaucasia" currently in Western languages. It shares borders with the Russian federation in the north, Turkey and Armenia in the south and Azerbaijan in the east.


GENERAL INFORMATION
Area: 69.700 km 2

Government: Republic. Gained independence from the Soviet Union in 1991.

Population: 5,399,000 (1999), 56% residential, 44% rural

Capital: Tbilisi, population - 1.253.000 Georgians - 70%, Armenians - 8%, Azeris - 6%, Russians 5%, Greeks - 2%.
Principal towns: Kutaisi - (233.100), Rustavi- (150.000), Batumi- (130.100), Gori - (68.000), Poti - (50.900).

Head of State and Government: President Giorgi Margvelashvili since 2013.

Language: The official language is Georgian, the only language in the Ibera Caucasian family written in ancient script, with its own unique alphabet. Russian, Ossetian, Mingrelian, Armenian, Azeri and Abkhazian are also spoken.

Religion: Christian majority, mainly Greek Orthodoxy, other confessional groups include Shiite and Sunni Muslims, Armenian Gregorian, Catholics, Baptists, Judaists

Geography: Georgia is a mountainous country bordered by the Black Sea in the west, which forms a 315km (205 mile long) coastline. The state is crossed by the ranges of the Greater Caucasus (highest peaks: Mt. Shkhara, 5068m, Mt. Kazbek, 5047m /16,554ft). The inter mountain depression to the south of the Greater Caucasus encompasses the Kolkheti lowland, Inner Kartli, Lower Kartli and the Alazani Plains. Still further to the south the Minor Caucasian ranges rise to the medium height (Meskheti, Shavsheti and other ranges), reaching 2850 m. The southernmost area of the country is covered by the volcanic South Georgian Upland (Mt. Didi Abuli, 3301 m, its highest peak). The Greater Caucasus and the South Georgian Upland join with the Likhi Range, which at the same time divides Georgia into two contrasting climatic zones:
Western and Eastern Georgia. Enclosed high valleys, wide basins, health spas with famous mineral waters, caves and waterfalls combine in this land of varied landscapes and striking beauty.


Main Rivers: Mtkvari (Kura) - 1515km (351km in Georgia), Alazani - 407km (390km in Georgia), Rioni (333km).

Main Lakes: Paravani (38 sq.km, depth - 3.3m, 2073m above sea-level), Tabatskuri (14 sq.km, depth - 40m, 2000m above sea-level), Keli (1,3 sq.km. depth - 63m, 2900m above sea-level), Ritsa (1,5 sq.km. depth - 101m, 880m above sea-level).

Time: GMT + 4.
Electricity: 220 volts AC, 50 Hz. European-type, two-pin plugs are used.


Culture of Georgia
Georgians


Kartveli - the Georgian name for the Georgian nation derives from indigenous proto-Georgian tribes known as the Karts, who emerged about 8th century BC in the eastern part of Georgia along the river Mtkvari gorge. People of this land are called Kart-veli and the land was known as Sa-kartvelo. The first Greek travelers and colonists visiting our land found a people with developed agriculture and viniculture and called the inhabitants of the area 'Georgians from the Greek word 'geos- (earth). Georgia is also known as Gurjistan - people worshiping Saint George in the eastern countries of the world. The ethnic name Gurji was used by Persians and Arabs.
The inhabitants of Georgia often fought to maintain their independence and national integrity over the centuries. In struggling with outside influences from Achamenid and Sassanian Persia, the Greek, Roman, Persian, Arabs, Seljuk, Ottoman and Russian empires, Georgia has always managed to preserve its national characteristics, religion and culture.

Language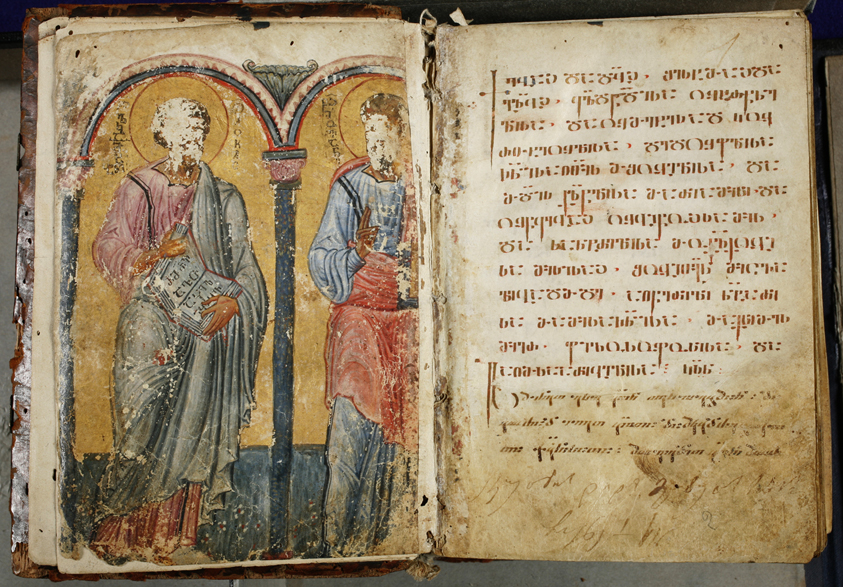 The basis of the Georgian language was divided into three related languages: Karts, Megrelian-Laz and Svan from the 2nd century BC. Due to geographical and historical circumstances two discinct dialects were developed in the western and eastern regions of Georgia: the western dialect of Georgian language became the basis of the Svanuri and Zanuri or Kolhkuri dialects. The Kolkhuri dialect developed into the Megruli and Lazuri languages. The eastern dialect of Georgian language became the basis for development of the modern Georgian (kartuli) language. The Georgian alphabet, which has evolved from variations of eastern Aramaic around in 5th century BC, is one of the fourteen existing in the world.
Christianity in Georgia Christianity was already known in Georgia from the 1st century AD. The first gospel readers who came to western Georgia were the apostles Andrew and Simon Kananian. However, Christianity was declared a state religion only in the beginning of 6th century by the King of Lazika kingdom, Tsate. From the early years of the 4th century a new stage of Christianity began in Georgia with the arrival of Saint Nino from Capodoccia. Officially Christianity was announced in Kartli - Iberia kingdom in 334 B.C. by King Mirian. Conversion to Christianity deeply impacted the spiritual cultural and political life of Georgia, as pre-existing pagan beliefs (worship of Greek gods in the west and Iranian-Zoroastrian beliefs in eastern Part of Georgia) were replaced by Christianity. The widespread Orthodox religion, believing in a both sides of Jesus Christ (divine and human nature) had an enormous importance for the spiritual and political unification of Georgia.


Georgian Music and Dances
Georgian songs as a masterpiece of oral immaterial heritage


There are just a few countries in the entire world with such a developed choral culture as in Georgia. The national originality of Georgian people fully is fully reflected in harmonious singing. The roots of polyphonic church chanting go back to the 5 th century AD. Originally it existed only on folk level, but with the coming of Christianity it got the status of church chanting.
For Georgian harmonies are characteristic special three-voice vocal techniques. Traditionally men do the dinging I Georgia. Like in Russian folklore all Georgian songs can be categorized as labor, ceremonial, around-the-table and dance.
There are a lot of disputes related to origination of Georgian folklore. Some people believe that Georgian folk music is more than 1,500 years old. The most courageous assert that the first mentioning of Georgian dancing and singing folklore is dated back as far as B.C. For example, according to Greek historian Xenophon (the 3th century BC), among the Georgian tribes used secular music, military and dancing melodies. Georgians even went to war singing and dancing. Georgian folklore has preserved ritual songs and dances of both pagan and Christian epochs. In 2001 the UNESCO recognized Georgian songs as a masterpiece of oral immaterial heritage.
Georgian dance (Georgian: ქართული ცეკვა) is a celebration of life and of Georgia's rich and diverse culture. Each dance portrays the characteristics of the region in which it originated. The mountain dances, such as Khevsuruli or Mtiuluri, are different from valley or lowland dances — e.g. Acharuli and Davluri. The costumes are different for every dance and resemble the clothing of the past in different regions of Georgia.

The dances perfectly capture the natural gracefulness and beauty of Georgian women and the courage, honor and respectfulness of Georgian men. The male dancers perform spectacular leaps and turns, incredible spins and can also boast a highly original technique for, unlike any other dancers in the world, they dance on their toes without the aid of "block" shoes. The female dancers "glide" like swans.
Georgian singing and dancing culture is rich in genres. The national performing style and the traditions, which were passed from generation to generation, have been in formation for many centuries.
Today Georgia is proud of such temples of musical and dancing art as the Georgian Opera and Ballet Theatre (founded in 1851), and the Theatre of Musical Comedy. Tbilisi Conservatory has deserved the reputation of educational institution training great performers of classical music.
The State Symphony Orchestra and a number of folk song and dance ensembles such as "Erisioni" and "Rustavi" are known all over the world.


Wine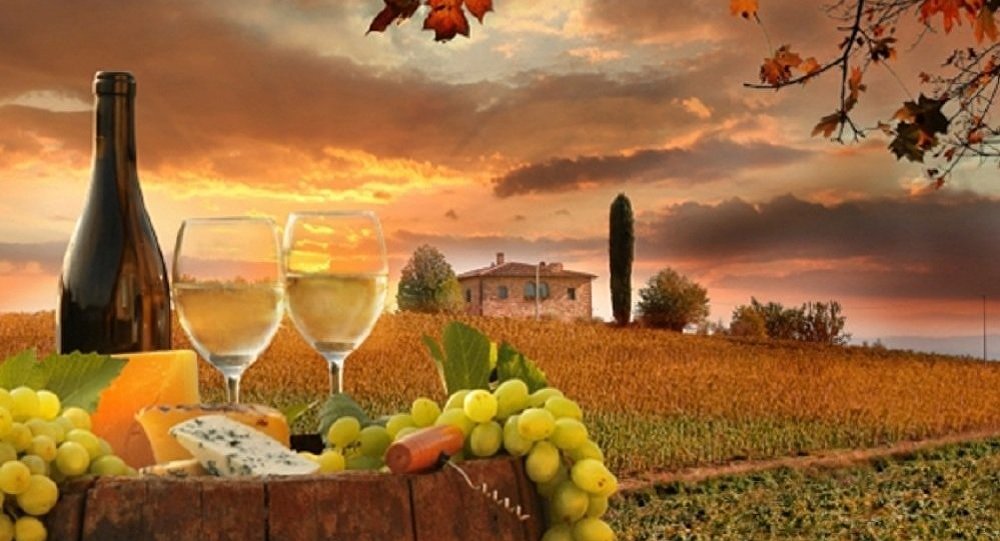 Georgia is the country that invented wine. Concentrations of grape seeds were found in this region in the 8th millennium BC. Of the 2000 varieties of wine in the world today 250 are endemic to Georgia. Georgian wine is a very well developed secret. Our industry is flourishing again - we have a huge variety on sale, only a few wines for export meaning that the best wines are still found here. Georgian families pride themselves on their own wines and the Georgian a 'tamada or toastmaster is famous up and down the Silk Road - as are the splendid and ancient polyphonic harmonies often heard at a Georgian table.

Public Holidays
January 1 - New Years Day;
January 7 - Orthodox Christmas;
January 19 - Epiphany;
March 3 - Mother`s Day;
April 9 - Memorial Day;
May 5-6 - Orthodox Easter
May 26 - Independence Day;
August 24 - Constitution Day;
August 28 - Mariamoba (Assumption);
October 14 - Svetitskhovloba;
November 23 - Giorgoba (St. Georges Day).

Welcome to the Wonderland of Georgia Pearl of Caucasus!