Why not Georgia! Yes…exactly gorgeous Georgia! This is the place where you have to spend your honey moon in magic, romantic Signagi, the city of Love…real paradise that you will always remember! Our Company is giving you an excellent opportunity to make your dream come true to travel to magic Georgia and relax at luxury hotels.
Day 1: Arrival in Tbilisi
Airport pick-up
Transfer to the hotel
Sightseeing tour of Tbilisi:
Trinity Cathedral - the largest cathedral not only in Georgia but also in the Caucasus.There are 12 churches on the territory of the cathedral.
Metekhi fortress - was built in the 5th century, when the Great King Vakhtang Gorgasali ruled Kartli. Narikhala fortress - built in the 4th century. At various times it was occupied by Iranian, Byzantine, Arab conquerors. St. Nicholas Church which was built in the 13th century, is located inside the fort. Old Tbilisi and sulfur baths - base is connected to the sulfur baths. According to legend, King Vakhtang Gorgasali found them while hunting.
In the evening dinner at the best restaurant with delicious Georgian dishes and fine wine, accompanied by national songs.
Return to the hotel, in a specially prepared room where you will find a bed decorated with roses, fruit and champagne.
Day 2: Kakheti–Bodbe–Sighnaghi, the city of love.
Breakfast at the hotel
Trip to Kakheti - home of wine
Bodbe Monastery On June 1, Orthodox Church of Georgia marks the day of St. Nino's entrance from Cappadocia. Her tomb is still shown at the Bodbe Monastery in Kakheti region. St. Nino has become one of the most venerated saints of the Georgian Orthodox Church and her attribute, a Grapevine cross, is a symbol of Georgian Christianity. The monastery now functions as a nunnery and is one of the major pilgrimage sites in Georgia, due to its association with St. Nino, the 4th-century female evangelist of Georgians, whose relics are shrined there.
This ancient city of Georgia was updated exactly for lovers. Lovely terraces, steep streets and romantic atmosphere attracts many couples to get married in this city.
In the evening, dinner at the restaurant in Sighnaghi.
Go on trip to Kvareli
Interesting Fun;
Walking around Kvareli Lake in Kvareli city;
Walking on water bike and boats;
Bike stroll around the lake;
Open swimming pools and spa services;
Jeeps trip;
Actual Kakhetian wine celebration and the feast Kakhetian.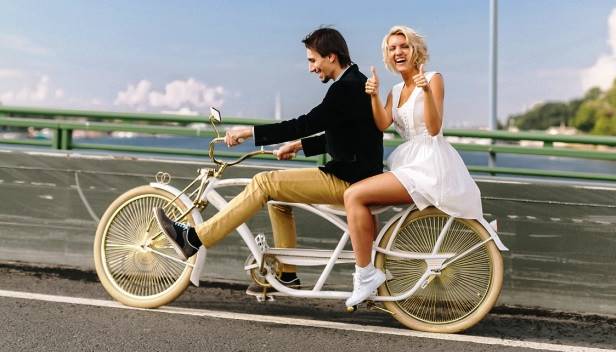 Day 3: Mtskheta–Svetitskhoveli–Cross Monastery
Breakfast in the hotel room
Return to Tbilisi and visit the ancient city - Mtskheta
Visit the oldest, IV century Orthodox Church - Svetitskhoveli. Here is buried the dress of Christ, which has been brought from Jerusalem.
Holy Cross Monastery - VI century Orthodox church with a magnificent view.
Return to the hotel in Tbilisi.
overnight at the hotel.
Price: 3 Day Packege price for couple: $490
Price inclusive:
Guide
Transportation (comfortable jips and minivans)
3 star Hotel(breakfast)
Insuarance.
Price not inclusive: flyes and meal.
We know how to make you feel comfortable!